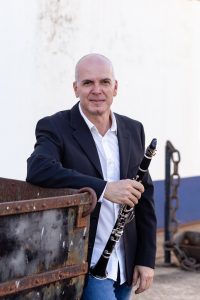 Rui Martins is Professor of Clarinet at the Escola de Música do Conservatório Nacional and at the Escola Superior de Música de Lisboa, where he was awarded the title of Professorship in Mach 2023.
Born in Lisbon, he started his musical studies at the National Conservatoire of Lisbon, under Professor António Saiote.
As a founding member of the Lisbon Clarinet Quartet since 1988, Rui Martins has performed around the world and recorded 3 CD's. Rui Martins has been sponsored by Vandoren and Buffet Crampon.
At the age of 20 he became soloist at the Nova Filarmonia Portuguesa Orchestra, playing all over the country and abroad. He also performed recitals in Seville and played the Mozart Clarinet Concerto with the J. D. Bomtempo Orchestra, conducted by Fernando Eldóro. Since 1992, Rui Martins has been playing clarinet and Eb clarinet in the Gulbenkian Orchestra, participating in several CD recordings and concerts in Portugal and Europe with soloists including: Maxim Vengerov, Pierre-Laurent Aimard, Maria João Pires, Izhak Perlman and conductors: M. Zilm, M. Corboz, Franz Bruggen, Rodolf Barshai, Rozhdestvensky, among others. Rui Martins won first and second prizes in all Portuguese chamber music and clarinet competitions. He has taken part in the juries of the Mercadante and Lisbon International Clarinet competitions.