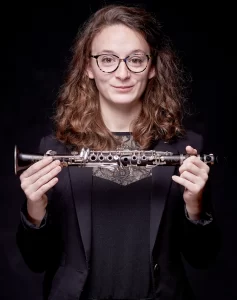 Daisy Dugardin began playing the clarinet in Autun with Christine Guepet. She obtained her clarinet prize in 2014 at the CRR of Chalon-sur-Saône with Nicolas Nageotte. Curious and always in search of new experiences, keen on pedagogy, she continues her studies at the Higher Academy of Music of Strasbourg - HEAR, in the class of Jean-Marc Foltz. There she obtained in 2017 the National Superior Professional Diploma of Musician and the license of Musicology (Composition and Musical Interpretation), then the State Diploma of clarinet teacher in 2018. Passionate about new languages and work around the body, she works closely with composers and validates in June 2019 a Master of clarinet around contemporary creation.

In order to extend this work, she will take part in the "Artist Diploma" program at the Conservatoire National Supérieur de Musique et de Danse de Lyon in September 2019. Rich of these meetings, she creates in 2021 a choreographed and musical show called Nous ne sommes qu'un corps.

In order to implement her interest in music and contemporary creation, she is a member of different ensembles such as an accordion-clarinet duet called ILO (creation of a show ANTHROPOIDES, articulated around free improvisation, in collaboration with the artist-painter Francis Faillenet), a quintet called BLOC (creations of works by different composers, staged), a clarinet-piano duet called Daisy and Olivier... all in the service of creation and musical innovation.

Daisy is a member of the quartet Roots4Clarinets: "Share, dialogue, communicate ... The relationship with the public is at the heart of Roots4Clarinets' projects. To develop the curiosity of the audience, to awaken their appetite, to make music a place of exchange... the concert is as much a space of mediation as of performance. Throughout the works, you will hear and discover clarinets in all their diversity, their complicity, their confrontations and their perfect disagreements... If you are not afraid of being surprised, amazed and filled with wonder, join us! The time of a tango not quite Argentinian, you will hear in the distance the bandoneon of Astor Piazzolla, to which will succeed an unbridled funk, you will be able to wiggle on a Venezuelan merengue whose sensuality and sensitivity will not leave you indifferent... Let us guide you, confuse you, surprise you in a concert where the border between artists and public becomes blurred. This philosophy pleases and seduces" www.roots4clarinets.com/

Daisy is currently a clarinet teacher at the Conservatoire à Rayonnement Régional de Nancy.

Daisy has collaborated with many orchestras and ensembles: Strasbourg Philharmonic Orchestra, LINEA Ensemble, LES SIÈCLES Orchestra, Hanatsu Miroir, Lemanic Modern Ensemble, Proxima Centauri...